Sesame Seed Bread (Bread Machine)
Boomette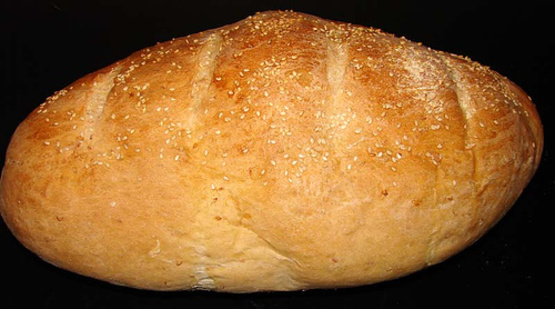 This bread has a fabulous taste from the addition of sesame oil. You can also add other seeds of your choice which I have listed as 'optional.' Cooking time includes cycle time in machine and second proofing. From '100 Bread Machine Recipes' by Vicki Smallwood.

The flavor the sesame oil gives this bread is quite nice -subtle, but there. Which is what I wanted. The crust was nice and crisp, but I feel the crust is a bit too thick. Maybe this has to do with brushing milk in the outside before baking. My preference is for a thinner, crispy crust, rather than croutons crunchy! Next time I would brush butter or a bit of the sesame oil over the top instead of the milk. The sesame seeds throughout the bread is a nice touch, but I think I will toast them prior to adding them to the dough. All in all, a great flavor bread!
Place the first four ingredients into your bread machine pan in the order they are listed above.
Mix the flour with the seeds and pour into the pan, followed by the yeast.
Set the programme to 'DOUGH'.
When the cycle has finished, (my machine takes 90 minutes) transfer the dough to a floured surface, knead about 5 times then shape as you like (round, oval, loaf, etc.) Place the dough on a lightly oiled baking sheet and cover it with a piece of oiled cling film/plastic wrap. Leave it to prove until it has almost doubled in size (about an hour).
Preheat the oven to 200C/400°F
Using the point of a sharp knife, cut 4-5 slashes in the loaf no more than 1/4 inch deep, making a simple design of your choice. (ex: / / / / or XXXX, etc.).
Brush the dough gently with the milk then sprinkle the sesame seeds over the top.
Bake for 25 minutes or until it has turned golden brown. Transfer the loaf to a wire rack and leave it to cool a little before slicing.