Peter J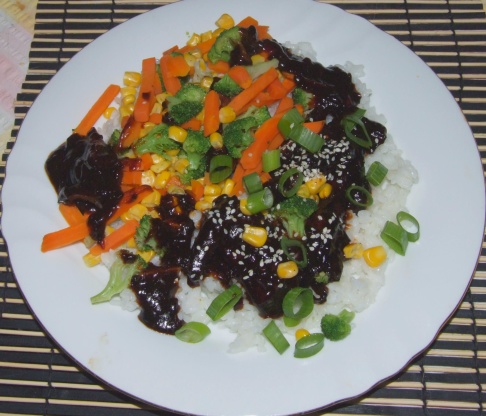 This is adapted from a recipe by Michelle in CA, from another board. It is easy to put together even if the list of ingredients looks long. You can double the recipe and freeze half of it. If you do that, don't sprinkle the sesame seeds or green onions on until you are ready to serve it. It can be reheated in the crock pot or thawed overnight and reheated in the oven or stovetop.
In a large bowl, combine the first eleven ingredients. Add the pork and turn to coat.
Place the onion in a 5-qt slow cooker; arrange pork on top.
Cover and cook on low for 5-6 hours or until meat is tender.
Strain sauce out into a small pot and heat to boiling. Add cornstarch slurry and stir until thickened; about 1 - 2 minutes.
Pour sauce back into slow cooker and combine.
Place pork on a serving platter; sprinkle with sesame seeds, green onions and chopped fresh cilantro leaves.
You can also remove the meat from the bones and serve it in flour tortillas with a little hoisin sauce, sort of a faux moo shu pork.