BNLNikki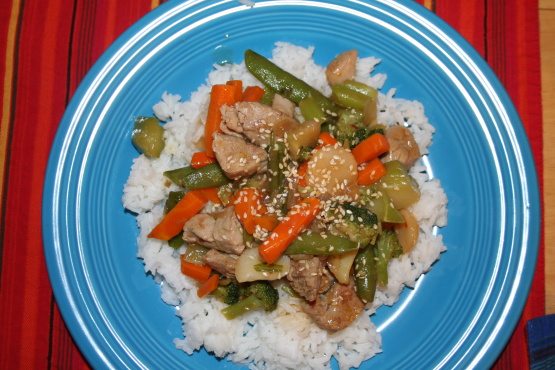 Quick and easy way to satisfy my Chinese food cravings. Also great w/some Hoisin sauce and ginger.

J! This is sooo good! Even my 8 year old loved it! This was one of my picks for last weeks ABC chef game. It's so easy to prepare, and cooks so quickly, great for a quick evening meal. I added a couple TBSP of hoisin, and about 1/2 tsp fresh ginger, at the same time that I added the chicken back to the pan. The sauce is delicious, and there is plenty of it. Had it served over Basmati rice. I wold have added some extra spice as Mark suggested, but I was serving to the kids, so I held back. Thumbs up from all of us!
Combine chicken broth, cornstarch, and soy sauce, blend well.
Add chopped green onions, toss lightly and set aside.
Cut tenderloin into bite-size pieces (1" chunks, or strips).
Heat oil in skillet over Medium-High heat.
Add pork and garlic, stir fry until meat is cooked.
Remove pork and set aside.
Add broccoli and broth, cover and simmer on low for approximately 10 minutes.
Add the pork and cook until hot, stirring frequently.
Sprinkle sesame seeds and serve with rice.