'sesame' Noodles With Peanut Sauce
Parsley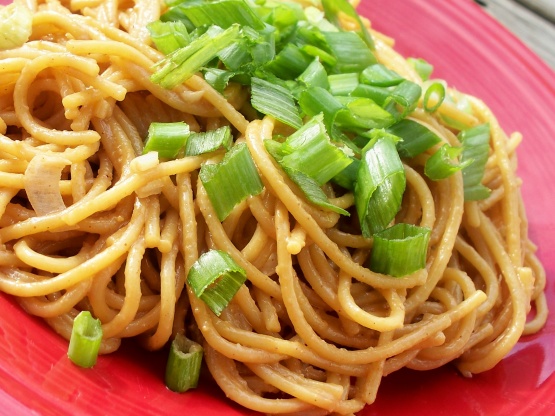 Delicious cold dish for a hot day.

I have made this twice now with equally good results. I don't bother dragging out the food processor, I just cream the peanut butter with the sugar using a wooden spoon until it's smooth and then add the rest of the ingredients. I use smooth Jiff because I never have the natural stuff on hand. I also added skillet browned tofu to make it a main dish; extra onion and garlic juice in place of the cloves because it's easier. It is very helpful to have a large bowl to mix this up in--mine is 13 quart. I also cooled the noodles the first time and then the second, put the sauce mix on while the noodles were still hot. I thought the sauce dispersed easier while the noodles were warm. This is an excellent dish and very much like something you would get in a restaurant. A good choice for hot weather! MsKittyKat, thanks for a super recipe! I will use it often!
Mince the garlic in a food processor, stopping occasionally to scrape down the sides.
Add peanut butter, soy sauce, sugar, chili oil and rice wine.
Puree 1 minute and allow sauce to stand for 1 to 2 hours to allow flavors to develop.
Put the spaghetti in a large bowl; top with sauce.
Mix until the pasta strands are evenly coated.
Garnish with green onions.