Sesame Meatballs Asian Style
An_Net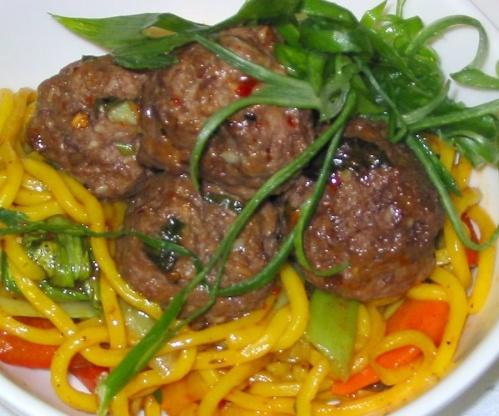 These are a favourite among friends and family. I often serve the meatballs on their own at BBQ's.
Combine mince, garlic, sesame oil,sesame seed, spring onion, salt and pepper in a bowl and mix well.
Roll mixture into walnut size balls and refrigerate for 30 mins.
Place meatballs on a layer of muslin in the steamer for 8 mins or shallow fry in a little oil.
Heat a wok over a medium heat, add peanut oil and swirl to cover surface.
Add shallots, red capsicum and bok choy and stir fry over high heat
Add water and noodles, cover wok and cook for 3-4 mins, then stir well.
Serve on a plate with meatballs and sweet chilli sauce drizzled on the top.