Ms B.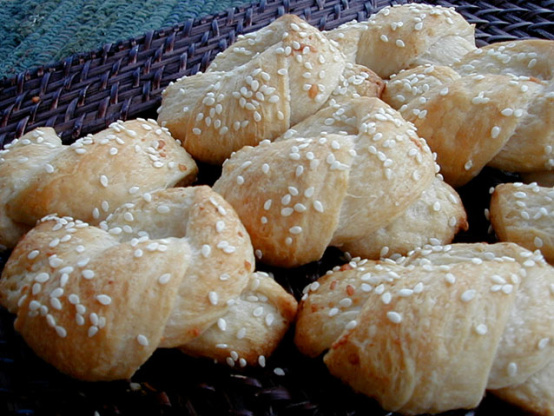 It doesn't get any easier than this. This is a great way to dress up a can of breadsticks.

I have to rate this very high as it turned out to be a life saver for my Thanksgiving dinner. I was so busy cooking for nine adults and three kids that somehow I forgot my homemade rolls. My son arrived ahead of everyone else to help me with the last minute type of things...BTW, he is a great cook. He told me not to worry and he would make some rolls, but there was not enough room for him in the kitchen. I was so busy with last minute things and getting myself ready, that when we were putting dinner on the table there was two baskets of steaming cute rolls! He had gone to my computer, pulled up my account and found these rolls, went to the store and the rest is history. Well, that was a long story!!. The rolls were very tasty and everyone thought I was a very inventive baker! Shhh, my son's and my secret.
1

(11 ounce) can refrigerated breadstick dough

1

teaspoon sesame seeds
Separate dough and loosely tie each piece into a knot.
Place 1 inch apart on an ungreased baking sheet.
Brush with butter and sprinkle with sesame seeds.
Bake at 350 for 15 minutes or until golden.