Sesame Honey Marinated Broccoli
teresas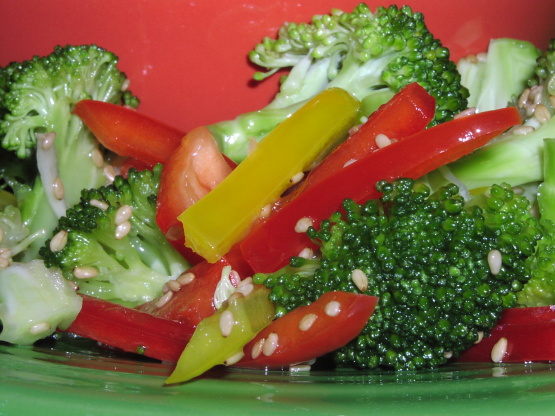 Here is what President George Bush Senior had to say about broccoli: �I do not like broccoli. And I haven't liked it since I was a little kid and my mother made me eat it. And I'm President of the United States, and I'm not going to eat any more broccoli. Aw, come on Mr. President, try this! Broccoli is believed to be the first of the cole crops to evolve from the wild species of kale or cabbage and was actually cultivated by the Romans. It was introduced in England in the early 16th century known as Italian asparagus or sprout cauliflower. In 1775, John Randolph described broccoli as the heads eat like cauliflower and the stems will eat like asparagus. Broccoli is a relatively recent introduction into the United States. It was grown in the 1800's, but was not popular until later. The first shipment from the west to the east was in 1923 and was really only found in Italian areas of the country. Broccoli means little sprouts in Italian. It became an important vegetable in the US during the 1930's. Broccoli is high in fiber and vitamin C and also is high in calcium and vitamin A. Cook time is marinating time. If you don't care for raw broccoli, lightly steam it for about 5-8 minutes.

Great veggie dish! DH wasn't to sure about it being cold. He doesn't care for cold veggie dishes, but he said for a cold veggie dish this gets a 5 star rating. OK, enough about it being cold. This is a quick (except for marinating time) dish to prepare. It is colorful, crisp, and fresh. We loved the flavor. Made as posted with the exception of cutting the recipe in half. I served it with recipe #219934 for a wonderful dinner. Thanks for posting. :)
Combine all ingredients in a large zip lock bag and gently toss to coat. If you don't like raw broccoli, lightly steam it for about 5-8 minutes, then combine with rest of ingredients.
Marinate for at least 3 hours before serving.