Sesame Ginger Brussels Sprouts
dicentra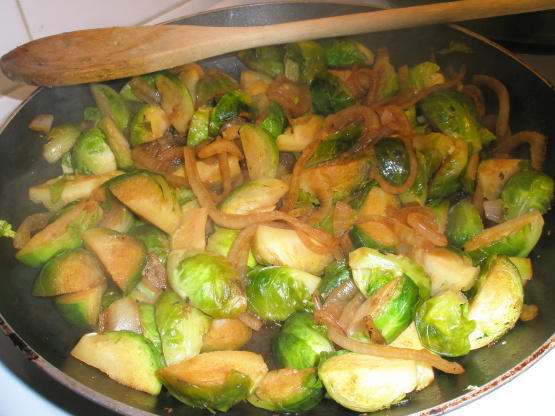 I LOVE Brussels sprouts! I usually roast them with garlic, olive oil and sea salt. This recipes sounds wonderful - from June 2007 GH. Haven't tried it yet but will this fall when they are back in season.

I did not like this and was going to rate it as such but then realized that I didn't use fresh ginger so that wouldn't be fair. Also I let the sprouts get mushy which wasn't the recipe's fault! Regardless though, I don't think this will work for me even if I did make all the necessary changes. I added some extra soy sauce mixed with maple syrup to salvage it. Everyone is different though so don't let my review deter you!
Trim stems and any yellow leaves from Brussels sprouts. Cut each sprout lengthwise into quarters.
In a cup, stir together soy sauce, grated ginger and sesame oil.
Meanwhile, in nonstick 12-inch skillet heat olive oil over medium heat until hot. Add onion and cook about 5 minutes or until it begins to soften, stirring occasionally.
Increase heat to medium high, add Brussels sprouts and water; cover and cook about 5 minutes or until sprouts are beginning to soften and brown, stirring once.
Remove cover from skillet and cook about 5 minutes longer or until sprouts are tender-crisp, stirring frequently. Remove skillet from heat; stir in soy sauce mixture.