Sesame Eggplant (Aubergine)
Anna101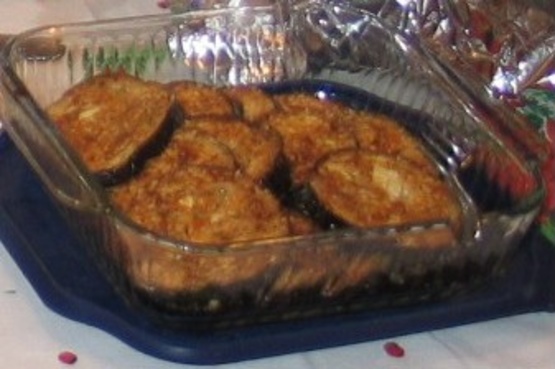 I love eggplant, and this is an oven-fried treat. :-)

Simply delicious! I broiled it a little in the beginning just to brown it a bit. And when I was eating it, it soaked up some of the salad dressing on my plate (a vinaigrette) and the tart flavor was the perfect accompaniment. I also coated some chicken in the batter and that turned out great as well. Thanks!
Combine cracker crumbs, cheese, sesame seeds, and pepper.
Spread eggplant slices with mayo on both sides.
Coat with crumb mixture, and press crumbs into eggplant lightly to make sure they stick.
Cut slices into quarters, to make 4 triangles.
Place triangles on greased baking sheets.
Bake at 400 F until bottoms are golden, about 10-12 minutes.
Turn and then bake 5-7 minutes longer.