Sesame Crusted Wild Salmon
bggio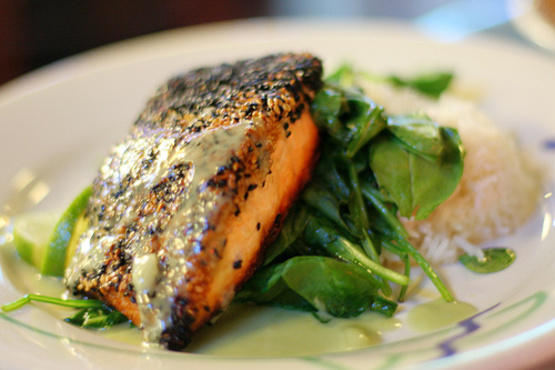 This is probably the best and easiest way to make wild salmon. Alot of flavor and simple. The sesame compliments the salmon very well while the sause blends nicely with the ginger and onion. Served best with basmati rice and steamed vegetables.

Top Review by bggio
This is so soft and moist and the sesame with ginger blend is awsome, if you like salmon this is one to try. did the recipe exactly as is and it did not need anything. I did it with garlic mash potato which blended really well with the creamy sauce. A must
Pre heat oven to 450 degrees.
Toast the sesame seeds in the oven for 5 minutes or when browned.
rub the top of the salmon with the sesame oil and sprinkle to taste with salt and pepper.
Dredge the tops of the salmon onto the toasted seeds lightly butter a baking dish and place salmon on top then place in oven for 10-15 minutes dependant on the thickness of the salmon.
Once the salmon is baking melt the butter on med high heat and glaze the onion and ginger in the butter for about 5 minutes.
Salt and pepper the mixture and then place the rice vinegar in until vinegar evaporates.
then stir in the coconut milk or cream and boil for 2 minutes turn heat down low and wait for the salmon.
Place portions of the mixtur on a plate and top with salmon with your rice and veggies on the side.