Sesame Cookies (Benne Wafers)
COOKGIRl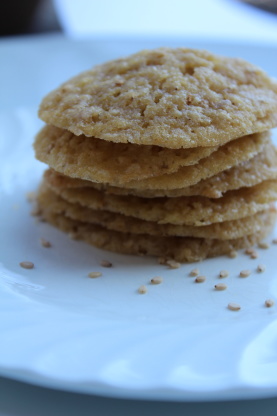 I think this recipe was attached to a box of Benne Wafers that my parents brought me back from Charleston, SC back in 1991. I have never made them myself, but I remember the wafer to be very tasty.
Cream butter and sugar together.
Then mix with other ingredients.
Drop teaspoon sized balls on a parchment paper lined cookie sheet about 2" apart.
Bake in a 325° oven for 7-10 minutes.
Makes 6-dozen.