Parsley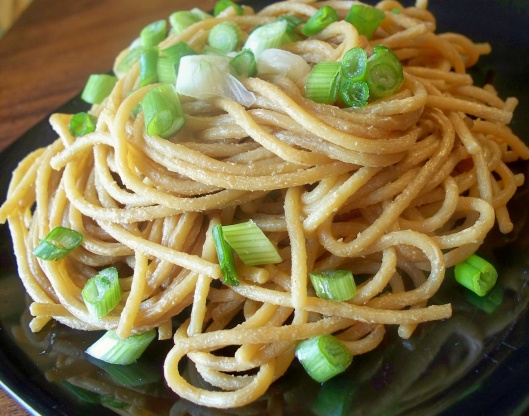 I love this cold, sometimes I heat it up in the microwave. A great dish that fits in as a side dish as well as a main course.

I enjoyed these noodles best at room temperature. They are simple to make, yet delicious. I used spaghetti noodles and used the peanut butter. I did add just a little crushed garlic. The fresh scallions are the perfect thing to top these off. It's a nice versatile recipe...... you could add pretty much any vegetable you like, or just enjoy the simplicity of the recipe as it is. Thanx for posting!
12

ounces chinese egg noodles

2

tablespoons sesame oil
1⁄2 cup tahini or 1⁄2 cup natural-style peanut butter

1

tablespoon sugar
1⁄4 cup soy sauce

1

tablespoon rice wine vinegar
Frank's red hot sauce
1⁄2 cup minced fresh scallions
Cook the noodles in boiling salted water until they are tender but not mushy.
drain and rinse in cold water, toss with 1 Tbls of the oil.
Beat together the tahini, sugar, soy sauce, vinegar and remaining oil.
Add a dash of hot sauce, taste and season as necessary.
Thin the sauce with hot water until it is the consistency of heavy cream.
Toss the noodles with the sauce, garnish with scallions and serve.