pines506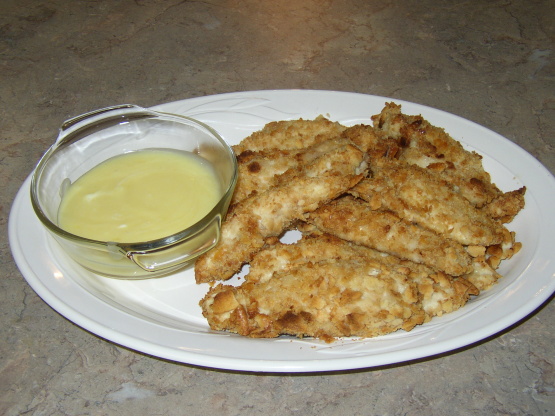 I think this was orginially from TOH. It is a real kid pleaser but a nice change from "ordinary" chicken nuggets for adults too. The sauce is really good and we use it with other recipes and as a sandwich spread as well.

A great break from the ordinary! I dipped them in egg instead of mayo to cut some fat and sprayed with a little cooking spray to get them crispy. Thanks for the recipe.
Combine mayo, onion and mustard.
In another bowl combine crackers and sesame seeds.
Cut chicken lengthwise into 1/4 inch strips.
(Or to save time use chicken tenders) Dip into mayo mixture and then cracker mixture.
Place in a single layer on greased baking sheet.
Bake at 425°F for 15-18 minutes.
Combine ingredients for sauce and serve as a dip with the chicken.
Tip: Place mayo mixture in a bowl with all the chicken and stir to coat all pieces before.