Julia M.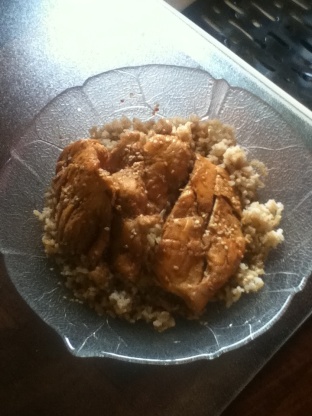 This is from my Weight Watchers cookbook. I checked other sesame chicken recipes, and it seems to be a little different from them. It is VERY easy to make, and the ingredients are probably already in your kitchen. I made it for my husband, and he told me he wanted me to make it again--he didn't even realize it was a weight watchers recipe. I left it plain, but I think it would taste good with some added veggies and some brown rice.
Toast sesame seeds in skillet over medium high heat, for about 5 minutes.
Remove seeds and set aside.
Spray skillet with cooking spray, and cook chicken for about 5 minutes on each side, until no longer pink in the center.
Combine seeds, honey and soy sauce in a small bowl and mix well.
When chicken is done, remove pan from heat and pour sesame seed mixture over the chicken, and turn chicken to coat.
Enjoy.