ImPat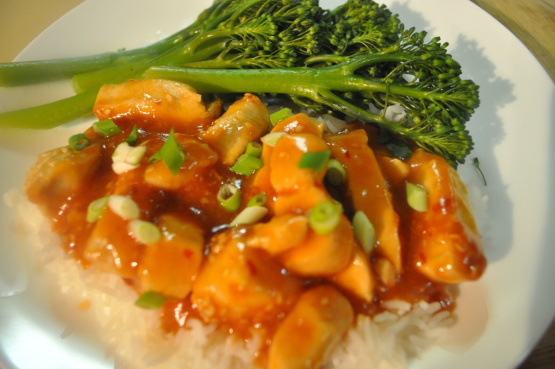 This is really easy to make and delicious! You can leave out the chili if you don't like it spicy or cooking this for children.

We made this for guests and weren't disappointed. yum! If anything we were rather heavy on the peppers so ours packed quite a bit of heat but it was wonderful! Pleasure to make and pleasure to eat, this will get repeated for sure! Thanks!!!
For the sauce, mix the cornstarch with the water until there are no lumps.
Add the sherry, ketchup,honey, soy, garlic, ginger, chili and the sesame oil, set aside.
In a non-stick frying pan heat the oil and fry the chicken for approx 5 minutes.
Add the sauce mixture and cook until the sauce starts to thicken.
Lower the heat, add the sesame seeds and simmer for approx 10 minutes.
If the sauce is too thick add some more water.
Serve with the green onions sprinkled on top.