Sesame Butterfly Pork Chops
vrvrvr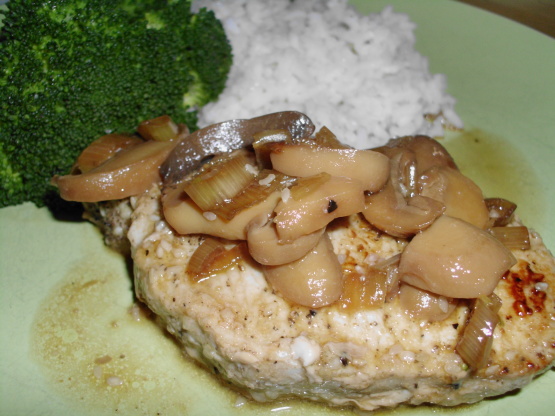 Serve this one with rice and steamed broccoli. From a grocery store flyer.
I made this last night, it was delicious, but I made a couple modifications... Sesame Oil has a very low smoking point, so I used peanut oil to fry the veggies and added a few drops of sesame oil at the end for its wonderful flavor. I also threw in some garlic and thinly sliced ginger to the oil before adding the pork into the peanut oil. Fresh ginger is always worth a few seconds... I always have some in the fridge, already peeled and sliced (1/8 inch thick) saved in a jar, covered with a nice dry white wine... it keeps for months and is always ready to go. After removing the pork chop, I added back a little water to make the yummy bits more available. Thank you for the basic recipe!
Heat sesame oil in large nonstick pan over medium.
Add chops and sprinkle with sesame seed and ginger.
Cook until browned on both sides.
Add soy sauce and white wine to skillet, then add mushrooms and onions.
Stir gently 1 to 2 minutes to saute vegetables.
Remove chops to serving platter.
Add butter to pan, stirring constantly to deglaze pan.
Pour mushroom-onion sauce over chops.