PanNan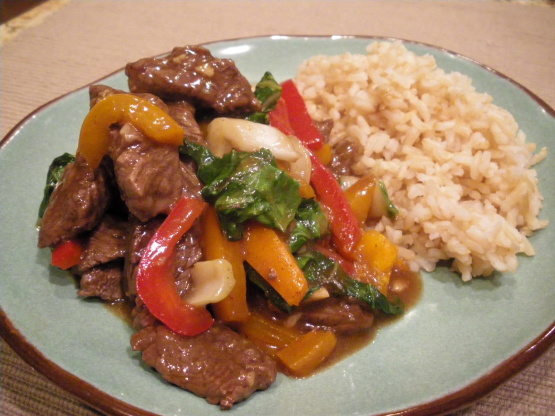 recipe using one of my favorite spice blends, chinese 5 spice. This makes an incredibly yummy sauce

Top Review by PanNan
This is a quick and easy stir fry that looks great, and I loved the beef and veggie combination. I'm not going to give this a rating,though, because I didn't use the sesame seeds (I ran out and didn't realize it) and I discovered that I'm not fond of the 5 spice powder flavor. DH enjoyed it, though.
Trim fat from steak; rub surface of steak with five-spice powder. Slice steak diagonally across grain into thin strips.
Heat oil in a large nonstick skillet over medium heat. Add ginger and garlic, and stir-fry 2 minutes. Add beef, and stir-fry 4 minutes. Add bell peppers, and stir-fry 2 minutes. Combine broth, soy sauce, and cornstarch in a small bowl. Add to beef mixture. Add bok choy, and cook 1 minute or until bok choy wilts and mixture thickens, stirring constantly. Remove from heat, and stir in toasted sesame seeds and salt. Serve over rice.