Sesame Asparagus..different and Delish!
Rita1652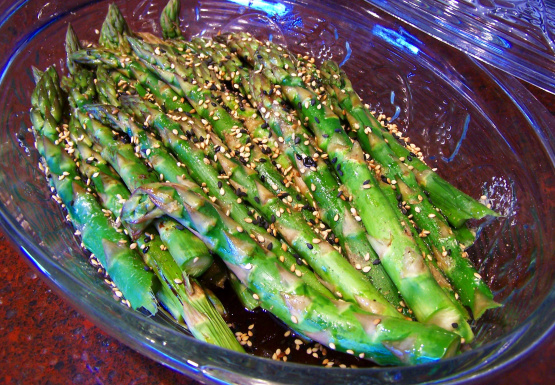 I just love asparagus, but we were getting bored roasting them on the grill, but I just didn't want to steam them either, so I came up with this twist, one that I have used on my Sesame Broccoli, Really..it's Good! Sesame Broccoli. COOKS NOTE: Wonderful hot or cold! Please note: this is an adopted recipe and I hope to make it soonest. If you make it before I do, I would appreciate feedback, Thanks ! ZWT REGION: France.
Prepare asparagus by snapping off tough ends and peeling if stalks are very thick.
Place asparagus in large sauté pan of boiling salted water and let blanch for 3-5 minutes, until tender, but not soft.
Drain asparagus and put back in sauté pan and toss with sesame oil and soy sauce, over medium heat for 3 minutes, or until warm.
salt and pepper to taste.
Sprinkle asparagus with toasted sesame seeds prior to serving.