Brenda.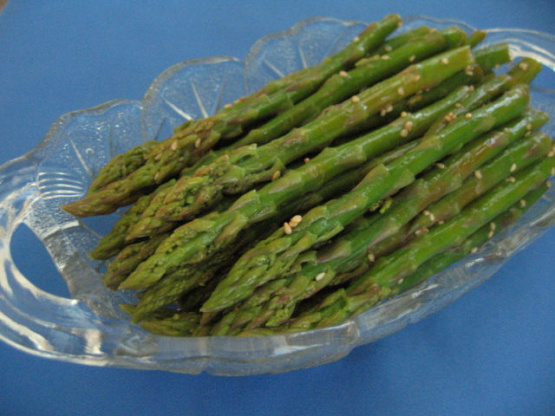 This is my favorite way to prepare asparagus. I try other recipes, but always come back to this one. It's also super fast to prepare, which is always nice.

Add me to this recipe's list of admirers. I steamed the asparagus until tender crisp then cooled as directed and patted dry. I probably marinated closer to 3 hours and then transferred to a serving dish for later. Really flavorful and pretty. My DS love asparagus and this is another way to enjoy it. Thanks for sharing. *Made for PAC Spring 2010*
Snap off tough ends of Asparagus. Remove scales if desired.
Cover & cook Asparagus in a small amount of boiling water for 2 minutes or until crisp-tender.
Drain & rinse with cold water (I throw some ice cubes on top of them to stop the cooking).
Combine Vinegar, Sesame Oil, & Sesame Seeds in large Zip-Lock bag.
Add Asparagus.
Chill 2 hours, turining occasionally.
I double the recipe with 1 lb of Asparagus. Sometimes I cut back on the Red Wine Vinegar if I cooked the Asparagus too long.