Serviette/Napkin, Knotted Fan
kiwidutch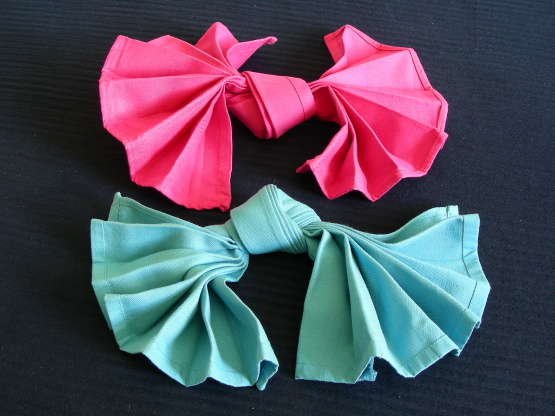 Between the teachings of my Grandmother, an Aunt, my Mother and several restaurants I learned a lot about serviette/ napkin folding.. Now that I have already posted all the napkin folds I know, I decided to look on the net for some new ones to learn. This one is fairly much a duplicate of Serviette/Napkin Folding, Simple Fan, but differs in that it doesn't need a napkin ring.
1

paper, serviette (large)

1

cloth, serviette (large)
Lay your serviette square out flat before you.
Take the bottom right and left corners and make an accordion fold strips all the way up to the top right and left corners. If you press these with an iron the pleats will be nice and sharp. Leave unironed for a wavy casual look. You will now have a thin band the width of your accordion fold.
Carefully holding the plated strip, tie the serviette in a knot, then place it on a plate and fan out the accordion ends so that they are pleasing.