Serviette/Napkin Folding, Orchid
kiwidutch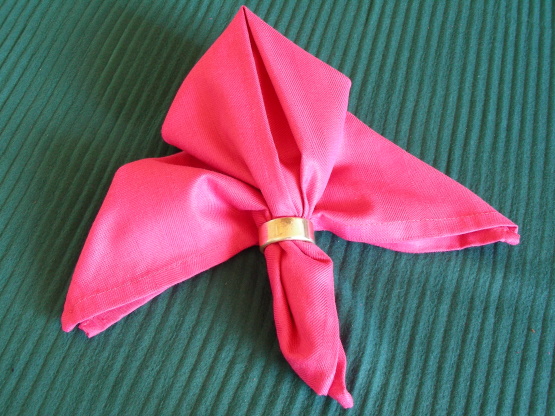 My interest in serviette folding was born on a wet day at my Grandmother's house, I was a pre teen and helping her with the ironing and watched while she ironed serviettes into wonderful shapes and neatly stacked them for use. I asked her to show me how and she did. Once you know several folds and people see them, they often have at least one other that you haven't seen before, you gain knowledge of the new one and on it goes. Now that I have already posted all the napkin folds I know, I decided to look on the net for some new ones to learn. This one was called the Orchid and you will need one serviette/napkin ring per serviette. PLEASE NOTE, There is an error in the photo sequence...counting from the top, photo 8 (diamond shape, loose flaps at south position)can be completely disregarded, it's up the wrong way and causes confusion, just skip to the next photo and go on...Thanks Heather Feather for pointing it out for me :) I have also amended the instructions to make the steps clearer.
1

paper, serviette (large)

1

cloth, serviette (large)
Lay your serviette square out flat before you in a square shape.
Fold the serviette in half so that you have a long thin rectangle before you.
Take the top right corner and bring it down to meet the centre bottom point of the serviette. This produces a triangle shape on the right side. Repeat with the left side so that you now have a triangle shape before you with a gap running down the centre.
Take the bottom right point of the triangle and fold it up to meet the main point at the center, repeat with the bottom left point. You should have before you a new diamond shape with the loose points at the top.
Take the right top flap and bring it accross and down so that what *was* the centre crease is now on top of the bottom right edge of the diamond shape. Repeat for the opposite side. The top of your serviette now resembles a rather stretched W form in it's outline.
Gently take the two bottom points of that W form and fold them backwards to meet each other. Your serviette will have a thicker side on the left with 4 layers and a single crease on the right.
Slip your serviette ring onto the base of this and bring it about half way up. Rotate the napkin to face you and gently pull out the two side flaps so that they are even. The center part will have a pleat down the middle. Arrange a little so that everything is as symmetrical and pleasing to the eye.