Serviette/Napkin Folding,, a Simple Elegant Cylinder
kiwidutch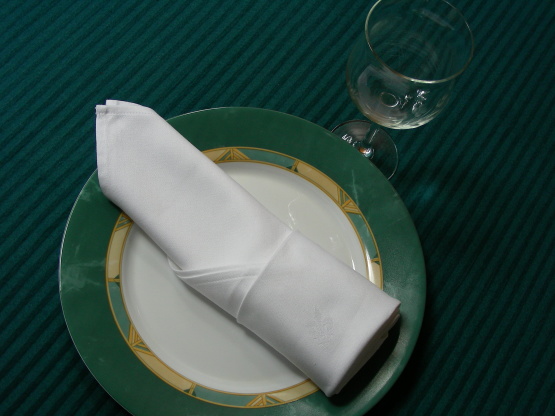 Between the teachings of my Grandmother, an Aunt, my Mother and several restaurants I learned a lot about serviette/ napkin folding.. Works well with cloth napkins, or larger paper ones. I have included step-by-step photographs to illustrate/suppliment the written directions. For neater presentation use ironed napkins for this fold. I learned this at my Grandmothers kitchen table.
1

paper, serviette (large)

1

cloth, serviette (large)
Lay your serviette square out flat before you in a diamond shape. Bring the bottom "South" point up to the "north" point of the diamond shape and you will now have a triangle shape with the crease at the bottom.
Depending on how big your serviettes are, fold 1 1/2 to 2 1/2 inches (4-7 cm) back undernieth the fold edge of the triangle. The bigger the serviette the deeper this fold will be.
Take the "east" point of the triangle and start rolling it up towards the "west" point of the triangle. When you get to the "west" edge tuck the "west" edge into to pleat that forms at the bottom.
Turn the serviette over so that the neat front side is showing.
A small bloom can be inserted into the pleat at the bottom if you wish.