Serbian Pumpernickel Bread
Nimz1466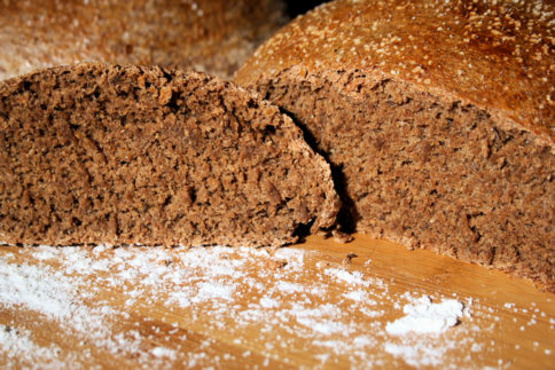 I got this recipe from a friend of my mom's-it's a recipe passed down for many generations. If you like dark bread, you will love this! It's addictive!

This made two beautiful loaves of bread. This was a different experience for us since neither of us have ever had Pumpernickel bread and didn't really know what to expect. Found it to have a very bold taste with the rye and caraway seeds dominating the flavors. I could not find the dark rye flour so my bread didn't turn out as dark as it probably should have. Made pumpernickel croutons for recipe #97936 Thanks Kaarin for sharing. :)
Combine boiling water, chocolate, vinegar, molasses, caraway seeds and coffee in a large bowl till chocolate melts; cool to 105-110 degrees F.
Dissolve yeast in the warm water; let stand 10 minutes.
Add to chocolate mixture and add sugar and salt.
Mix in rye flour and bran, kneading well.
Knead in white flour (I use a kitchenaid).
Grease the bread, cover and let rise until doubled.
Form into 2 round loaves; let rise again till double.
Bake at 350 degrees for 25 minutes; brush with egg white and sprinkle with salt.
Bake another 20 minutes until loaves sound hollow.