Parsley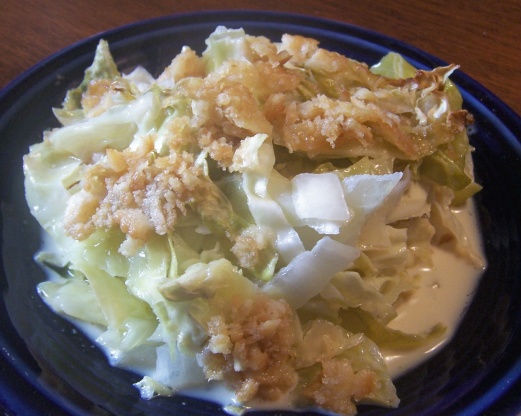 I've had this magazine recipe in my collection for years. I try others, but I keep returning to this simple baked cabbage like an old friend.

Top Review by Jezski
So glad to see this recipe here. I cut it out of Woman's Day years ago, I don't want to think how many years ago! I've made it many times; it's delicious. I've never used the chopped onions, but may try that the next time. Very tasty without them. Yes, one needs to use evaporated milk. Cheaper than heavy cream though! Thanks for posting, SMS.
1

medium head of cabbage (shredded fine)
1⁄4-1⁄2 cup chopped onion (optional)

12

ounces evaporated milk (like Carnation)

1

cup dry breadcrumbs
1⁄2 cup butter, cut in small pieces (you might use a bit less)
Place cabbage and onions in a shallow 4 quart buttered casserole.
Pour the milk over and sprinkle with the breadcrumbs; dot with butter and sprinkle with paprika.
Cover and bake at 350°F for 30 minutes. Uncover and bake an additional 30 minutes or until crumbs are golden brown, and cabbage is tender.
You can probably substitute low fat or non fat evaporated milk, but don't use regular milk. Some magic will occur, and the cabbage develops a wonderful creamy consistency. (The original recipe states unsuspecting guests won't even recognize it as the "dreaded" cabbage, but I don't think I'd go that far.).
I just say it's Comfort Food at it's finest.