Sensational Simmered Leek Cabbage Mushroom Trio
Bergy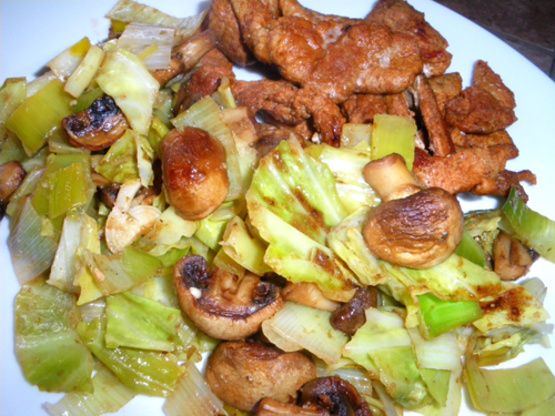 I often make delicious Simmered Leeks and Simmered Cabbage individually, but it just makes sense to combine it all together in one great side dish! Also good as a steak, poultry, or fish topper. I just love it when the leeks are in season here in the Pacific Northwest... :)

Phenomenal recipe! I have never, and I mean never, like Cabbage! I came across this recipe online searching for a recipe for my New Years Cabbage recipe that is not your average cabbage. I made it tonight for our New Year Day Dinner and both my Husband and I loved it! Smashing hit in our home! I even created this user name just to leave this review of your recipe..Will be making this again soon!
Carefully clean leeks; cut off the stemmy bottoms and the dark green leaves, so you end up with with white and light green parts only (dirt can get in between the leaves, so wash them out well).
Cut leeks lengthwise in quarters, then into about 1/2-inch squares.
Heat oil and butter in *large* heavy and wide saucepan or saute pan; add cleaned/cut leeks, cut cabbage, sliced mushrooms, salt, pepper, and stir over low heat for 5 minutes.
Add broth (I usually add a bit of sherry, too) and bring to boil, cover and simmer over medium-low heat, stirring often, for about 15 minutes or until vegetables are tender.
Raise heat to medium, uncover and let juices reduce to about half (be careful not to let burn).
Taste and adjust seasoning, serve hot.
Makes about 4-6 servings, depending on what you're using them for.