Sensational Lemon Meringue Pie - Suitable for Diabetics
ImPat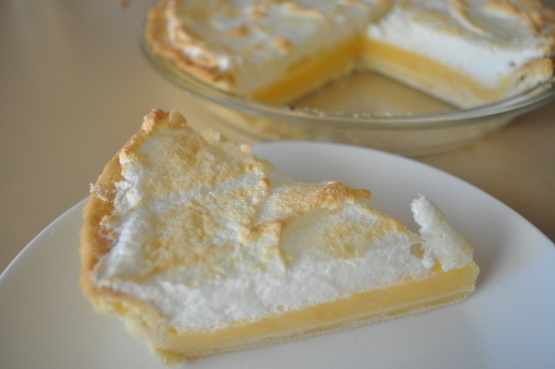 A really nice zesty Lemon flavor with fluffy meringue topping - so better make two while you - or otherwise you wont have enough!

Top Review by ImPat
The family enjoyed this tart lemon pie. I used recipe #177343. The only suggestion I would make is to use a 18cm (8") pie plate as it was very thin and I would have prefered a little more depth to the pie. I had the same issue with the meringue as the previous reviewer but was expecting that because of the use of artificial sweetener instead of sugar. Now I can make a lemon meringue pie I know the DM can eat and enjoy. I served it with a creamy vanilla yoghurt. Thank you JoyfulCook, made for Make My Recipe - Edition 16. UPDATE - made this as one of our desserts for Christmast lunch but this time used natVia as the sugar replacement and used 3 eggs whites though still coudn.t get the egg whites to peak, will try again and use a piping bag to get the peaks.
preheat oven to 180c (350f).
Roll out and place pastry in a 6-7inch pie dish,.
In a small non stick saucepan, blend the corn flour with the water adding the lemon zest and the juice from the lemons. slowly bring to the boil, stirring all the time.
add 4 tablespoons of the splenda, removing from the heat, let it cool for about 10 minutes.
Separate the egg yolks from the whites. Put the egg white to one side for the meringue and add the yolks to the lemon mixture and pour the mixture into the pastry shell.
Bake for about 12-15 minutes, until set.
While the base is cooking whisk the egg whites in a bowl until it forms peaks, add the remaining sweetener and whisk again to fold in well.
Spread the meringue over the lemon filling and return to the oven for about 5 minutes or until the peaks of the meringue turn a lovely honey brown.