Susie D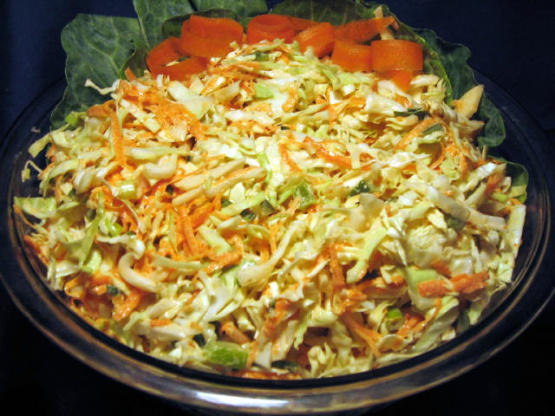 This is the first recipe I've ever posted on 'zaar, so all you 'critics' go easy, okay? :) I found this wonderful slaw recipe in a community cookbook when I was a newlywed searching desperately for things on my skill level (which was "zero"!) Twenty-five years later, it's still a winner! The only thing I would caution you about is the salt. As tastes have changed, I've gradually decreased the original amount (1 tsp., which we thought was fine then but would gag us now!) to a scant 1/2 tsp. So add that, cautiously, to taste. Prep time and servings are guesstimates.

Day one: Served with Fish and Chips. It was wondeful. Not very creamy at all and on the other end, not to vinegary. Loved the addition of the celery seeds. Everyone loved it. Day two: Served the leftovers with a smoked pork butt. Was ok but the flavor did not improve after longer soaking like most coleslaws. Heed Highcotton's advice and blend just before serving.
Toss slaw ingredients well to mix.
Measure first 6 dressing ingredients into a small mixing bowl, stirring to combine.
Add cider vinegar.
Stir until the liquid is absorbed and the dressing is a smooth texture.
Store slaw and dressing separately in refrigerator.
(It gets real soggy if you mix in advance. I*adore* it soggy, but you might not.) Shortly before serving, pour dressing over slaw ingredients and mix well.
Can be mixed in smaller portions as needed, with leftover slaw and dressing stored separately for future use.