Satyne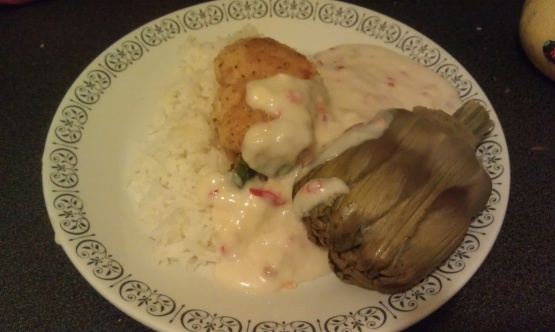 Like Chicken Kiev, Spanish Style Yummy!

Top Review by Satyne
I quite enjoyed this and my partner loved it. I've submitted some corrections to the recipe based on following the instructions. I did find that the sauce was a little bit bland. I think that it needs just one more thing added, however I'm not sure what. We served up on rice as suggested, along with steamed artichokes to dip in the sauce.<br/><br/>Thanks for a nice dinner.
Place chicken skin side down between sheets of plastic wrap and pound with the side of a meat cleaver until thin.
Cut 4 green chilis in half and place a half on each piece of chicken.
Cut cheese into 8 sticks about 1/2 x 1 x 1/2 and place on chicken.
Sprinkle chicken with garlic salt and roll up to completely roll up to enclose cheese and chilis.
Roll in flour.
Then dip in egg.
Roll in bread crumbs.
Chill thoroughly.
Heat 1/2" oil to 375 degrees in a large skillet.
Brown evenly, removing chicken from the pan when cooked.
Pour off oil and then add back in 3 T.
Blend in 1/4 cup flour, add milk and cook, stirring until smooth and thickened.
Add pimientos, parsely, and garlic.
Spoon over chicken and serve over rice.