Senn High School Chicago Butter Cookies
chrsn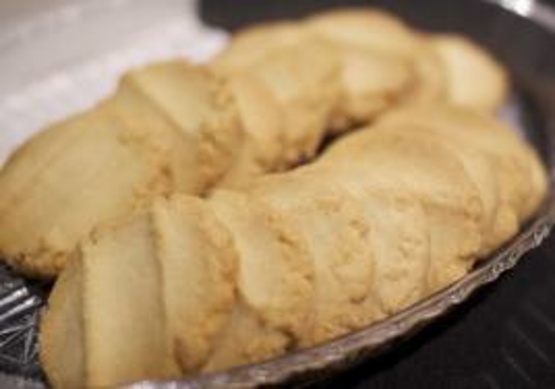 This is the actual recipe used in the Chicago public schools, my Mom was the manager in the cafeteria for many years. This recipe was also published in a Chicago newspaper as one of the favorites. The cookie has a wonderful butter flavor and very delicate texture. Have one with a little carton of milk and you will feel young again. Enjoy!

OMG!!! Thank you so very much! I was a child of the CPS! I ate one of these at least once a week from Kindergarten thru High School. I've had the recipe before and lost it 10 or so years ago. I'm so happy I found it again! I've inhaled 4 already and my inner demons are fighting with one another wether or not to have more! Thank you again!
Cream butter with mixer untill light and fuffy.
Add sugar and salt and beat until no longer grainy.
Gradually add flour a little at a time, beating at low speed untill dough forms.
Mix in vanilla.
Form dough into balls, one heaping tablespoon = 1 ball.
Place balls on ungreased cookie sheet spaced widely- about 9 per sheet.
Put 1/4 cup of sugar on saucer. Press first 3 fingers into sugar, then press down on ball to flatten to a 3 inch circle wide and 1/4 to 1/2 inch thick.
Bake in preheated 350 degree oven 12-15 minutes, until faintly browned around the egdes.
Gently remove cookies from sheet with a spatula, cool completely on wire racks.