Senegalese sweet potato, rice and beans stew
Linky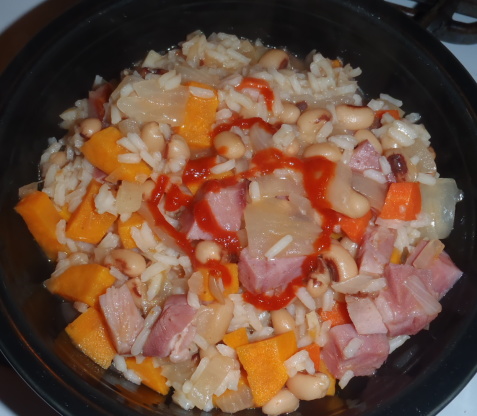 In the early 1990's, a housemate of mine went to Goree Island in Senegal, and came back with this recipe and a husband :-) This is a hearty, tasty stew of yams, black-eyed peas, and rice. I like to serve it on New Years Day. Use more or less hot pepper depending on your preference.

Top Review by umUmar
This was a very nutritious stew and the taste was somehow bland but satisfying,meaning it didnt blow us away. Made this for me and my husband so I cut down the recipe as well as adding chickpeas. Because I couldn't find black eyed peas here, I used brown kidney peas instead. Before adding the rice I added a tablespoon of vinegar to the tomato sauce and this even balanced the flavors more. Its a nice dish if you want to cook vegetarian. Next time ill serve it with fried bananas if I can find it.
In one big pot or vat, saute chopped garlic and onions.
When translucent, add tomato paste and mix it in thoroughly.
Then add water (about 10 cups)- when it boils add vegetable bouillion cube, beans, carrots and yams, pepper, hot pepper and salt.
Boil until beans are tender.
Then add rice.
Boil 10 minutes covered, then 10 minutes uncovered.
Don't stir until the very end.
You may need to add some more water.
If it is too watery, boil it uncovered some more.