luv_cats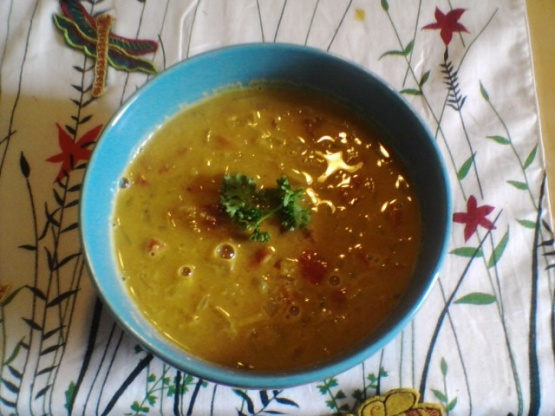 From a WW cookbook. Very tasty and quick. Low in calories and fat (chickpeas stretch the peanut butter flavor). Only 4 WW points per serving!

I thought this was tasty and it relies on things that I pretty much always have in the pantry, a plus. I changed the recipe around a bit. I started with step 2. I added the chickpeas and the peanut butter in at step 4, and simmered everything for probably 10 or 12 minutes to make sure the chickpeas heated through. I then took the stick blender to it. I used 1 tbl of curry powder and some red pepper flakes instead of the cayenne. I might use less broth or add a potato to this, it was just a bit thin for me. Might add just a bit more peanut butter. This is a very good soup for very little effort.
Puree chickpeas, 1/2 cup of broth, and peanut butter.
Heat peanut oil in saucepan, saute onions and ginger root 7- 8 minutes.
Stir in curry powder and cumin, saute another minute.
Add remaining broth, tomatoes, and chickpea puree.
Simmer 5 minutes.
Season with cayenne and sprinkle with cilantro.