Senegalese Chicken and Peanut Soup
Ms B.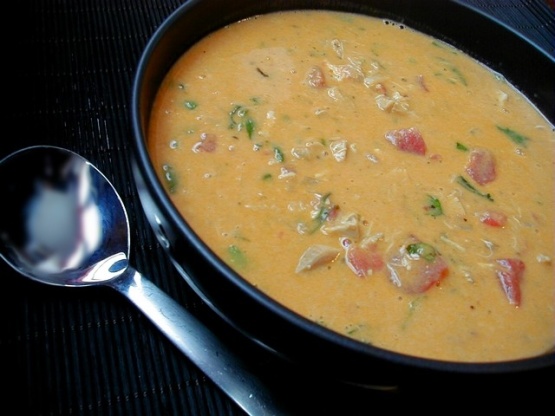 This is an award winning soup recipe. The soup should be silky and smooth but not thick; it should be spicy, but not too hot; it should have a sharpness of tomato and lemon, but not be sour; it should taste of peanuts, but not of peanut butter. It freezes beautifully. Note - I just adopted this one -- it was originally posted by my friend Mean Chef -- the intro is perfect and is exactly what you should be tasting in the final product! :-)

This truly is a five star soup. I'm not exaggerating when I say this - this is the Best Soup I've Ever Had. And I'm utterly flabbergasted that something I made has earned this title. I made my second batch yesterday and a good friend - a friend who knows me and thinks well of me - looked at me cockeyed when I tried to assure him that, yes, I made it and hadn't picked it up from a restaurant. With every subsequent bite he took - I'm pretty sure I heard him mumbling: Liar.
Saute onion, garlic and cayenne in oil until onion is translucent.
Stir in curry powder and curry paste; saute 1 minute.
Add chicken stock and tomatoes in juice; bring to a boil, then simmer for 15 minutes.
Add cooked chicken and sambal; simmer for 10 minutes.
Whisk in peanut butter a little at a time until incorporated; add coconut milk and stir to incorporate.
Turn soup to low and add cilantro and lemon juice to brighten the taste; check seasoning.