Mercy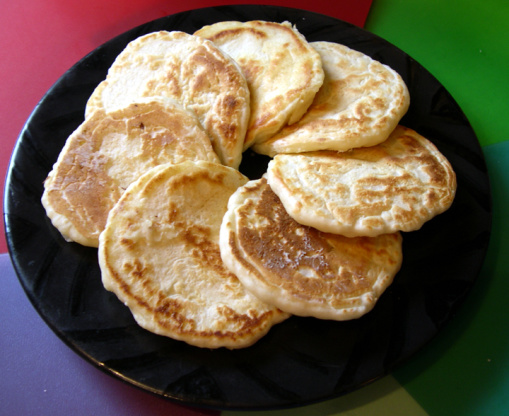 I've lived on the Seneca Nation of Indians Reservation now for over 35 years and used to always get this bread when I went to the annual pow wows. This is an authentic Seneca (A tribe of the Iroquois Federation) recipe and is good to eat either warm or cold. I enjoy taking several to work to snack on during the day.

Top Review by Mercy
These tasty little pan-fried biscuits are very good and super fast to prepare! It took me a little more than 1 cup of water to make a batter consistency. I fried the first half in canola oil (didn't have any shortening or lard) and then I experimented and fried the second half of the recipe in a lightly oiled non-stick pan. The canola batch was a lot more flavorful, but the non-stick batch was a lot lighter. The dry milk really added richness to the bread. Thank you for this relaying this terrific Seneca recipe!
In a bowl combine all except the shortening or lard.
Mix until batter is smooth.
In a skillet heat shortening or lard on medium heat till melted.
Using a wooden spoon scoop a large spoon full from the bread batter and place it in the shortening.
Let cook about 30 seconds or until bottom is firm enough to slip spatula under and flip over.
Carefully turn the dough over and press with spatula to flatten.
You may have to press it down several times.
When it gets light brown around the edges turn it over and cook till edges are browned.
Serve warm or place in baggies after cooling and eat as desired.