Self Saucing Chocolate Pudding
vitalev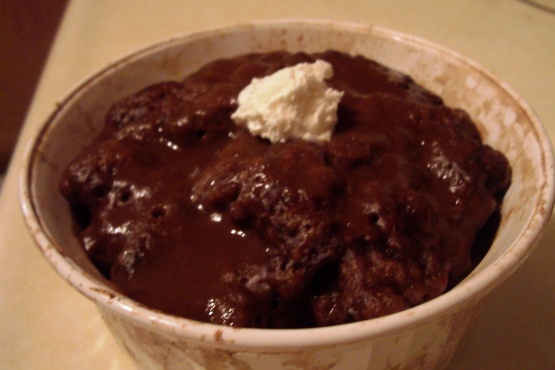 A recipe my mum gave me when I left home which I rediscovered over the weekend. Not sure of its origin - possibly Edmonds Cookbook - but a good, quick microwave pudding that my kids love. Great on cold days.

This would have to be the best pudding i have had in ages! It actually self sauces and there isn't many round that do it properly well not for me anyway! Big thumbs up from me!
Sift flour, cocoa, salt and sugar into a bowl.
Stir in milk, melted butter and vanilla till mixture is just combined.
Spoon batter into a large ring container or casserole dish.
Combine brown sugar, cocoa and coconut and sprinkle it over the batter.
Pour hot water carefully over the batter and cover with a sheet of waxed paper.
Cook on high for 6 - 7 minutes.
Serve with icecream or whipped cream.