Self-Frosting Anise Cookies
mianbao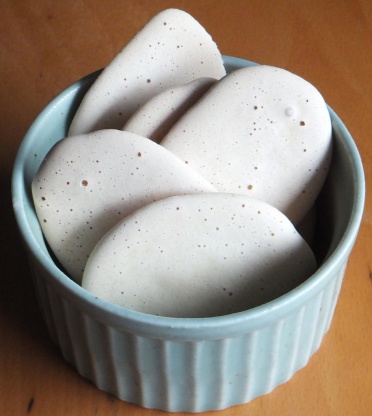 An old German recipe I found in my recipe collection, similar to the cookies commercially sold around Christmas time. Prep time doesn't include standing time.

These are amazing! I considered putting anise seeds on the cookie sheets, but didn't in the end. The anise flavor is still very strong. The directions in this recipe were very concise, and I followed them all. I have never used my hand mixer for 15 minutes straight (with time-out for scraping down the bowl) before. I made half a recipe, and, with very sloppy portioning, got 47 cookies. So, I think the "about 10 dozen" yield for the entire recipe is more than likely correct. I did not think so before I made these. The flavor is wonderful. They do form a "frosting" layer. My oven is new, and I had a hard time deciding what temperature to set it for, and how long to bake these. Many of mine got overbaked. They still taste fabulous. I will be practicing on these again. Thank you very much for taking the trouble to post these here.
Sift flour, baking powder and salt together several times.
Beat eggs at low speed until frothy, turn mixer to medium, slowly, gradually beat in sugar (about 1 tbl at a time) Turn mixer to a low speed; add sifted dry ingredients slowly, beat 15 minutes longer, blend in anise.
Using small cookie scoop or teaspoon drop onto greased cookie sheets,work quickly.
Allow to stand in a cool place several hours or over night, the top of the cookie should be dry to the touch.
Bake at 325 F about 14 minutes, should not brown.
Makes about 10 dz.