Self-Crusting Mushroom and Spinach Quiche
Babycat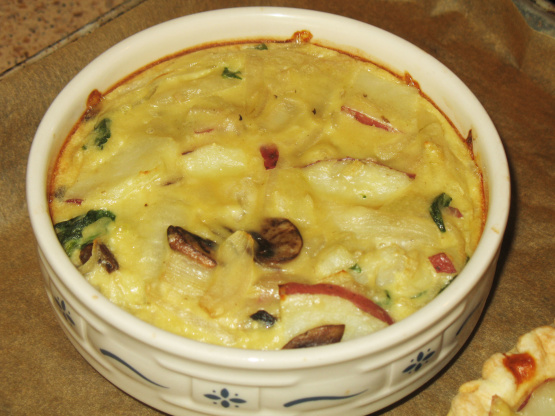 From Alison Holst's 'Meals Without Meat'. No cream, easy meal.

Wow, this quiche was fantastic! My husband, who generally does not like quiche, says it is the best he has ever tasted. I guess "real men" really do eat quiche. It was great; especially with the parmesan cheese -- I don't think the cheddar would have been as good. This recipe was reviewed for PAC 2010.
Cook the chopped onion and garlic in butter until tender. Cool.
Stir in the eggs, salt and milk, and beat with fork until mixed.
Pour this into a large bowl containing the flower, and stir with the fork until combined.
Add the potatoes (cut in 1 cm cubes), the mushroom and spinach and the cheese.
Pour into a prepared 20-23cm oven proof dish.
Bake at 220 degrees C for 20-30 mins until lightly browned and set in the centre.