Seitan Log 3- Chick'n Version
Kathy228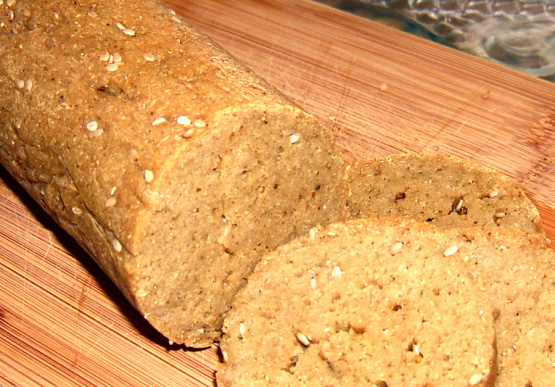 From the Post Punk Kitchen blog. This is a much milder tasting seitan than Seitan Log or Seitan Log II- it's good if you want to use seitan in a recipe or with a sauce rather than having the seitan be the main flavor point. As with the other logs posted, this seitan is much firmer than the boiled type and more dry. It's good for slicing or crumbling or cut into small peices for a sauce.

I have made this a couple times now and just getting around to reviewing. What a fabulous recipe! I did make some minor changes, mainly using less cumin (and I may cut it out completely next time -- maybe it's because I grind my own cumin, but I feel like it really dominates.) The texture is so much nicer than the simmered kind I had been making before. I discovered that you can also make it into little "cutlets" (kind of like the Quorn brand) which I feel are very handy to keep in the freezer. Thanks for a great recipe, I will be playing with this for years to come! PS -- I also came up with a variation that is more "beefy" in flavor, which I will be posting.
Preheat oven to 325°.
In a large mixing bowl mix dry ingredients. Mix the rest of the ingredients (liquid ingredients) in a smaller mixing bowl. Whisk well until mixed.
Add the liquid ingredients to the dry ingredients. Mix well, then knead for a minute or two. it doesn't need long.
Form into a log (6-8" long), wrap tightly in foil, twisting ends.
Bake for 80 minutes, turning once or twice.
When done baking, unwrap and leave out to cool all the way. Then wrap it foil or plastic and refrigerate.
Slice to use as desired.