Kathy228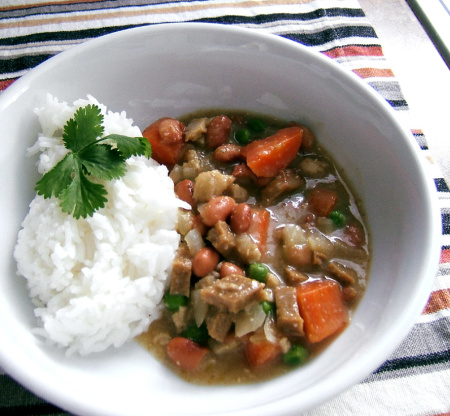 Another one from Breaking the Food Seduction by Dr. Neal Barnard. This stuff is good AND vegan, and it's not too difficult to make!

This was okay. I followed the recipe exactly, using homemade vegetable broth and homemade seitan. It was pretty simple to make but seemed to be lacking in flavor--on the bland side.
Combine carrots, broth (or water, or beer), celery, rosemary, and bay leaves in a large saucepan and bring to a boil.
Reduce heat to medium, cover, and simmer until vegetables are tender, about 20 minutes.
Meanwhile, heat oil in a large skillet.
When hot add onion and sauté until tender, about 10 minutes.
Stir in flour and mix well.
Then gradually stir in water and mix vigorously until sauce is smooth.
Remove from heat.
When vegetables are tender, stir in onion mixture and mix well.
Stir in beans, seitan, and tamari.
Bring to a boil stirring constantly, then reduce heat to medium.
Simmer stew about 5 min until sauce thickens and the beans and seitan are hot.
Remove bay leaves.
Season with salt and papper to taste.
Ladle into soup bowls and serve hot.