Seeded Whole Wheat Buttermilk Bread (Bread Machine)
Gatorbek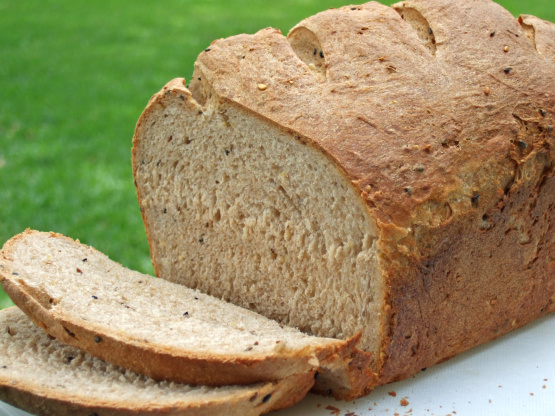 This is an adaptation of a recipe I made from Betty Crocker's Bread Machine Cookbook. Feel free to experiment with different seeds that meet your liking (example: dill, coriander, poppy, or fennel seeds). Intended for a 2 pound loaf (message me if you need the recipe for the 1.5 pound loaf - it is not a direct down conversion).

Made for the FYC Tag Game & this bread is at least a tie for my personal #1 fave of the ABM genre. I made just 1 change & subbed poppy seeds for the mustard seeds I did not have. DH & I both love homemade bread, but I'm a yeast-phobe & rely on my ABM to help me get things right. Homemade bread is most often about the texture & this bread has a lovely dense texture that holds up well even w/a simple, but aggressive slather of butter & will I'm sure be excellent toasted. However, the biggest surprise for me was the excellent standout flavor. Everything works in this bread & it rivals any bakery bread I have ever tasted. This is a great recipe, Maito, & will be repeated often. Thx for sharing it w/us. :-)
Place all ingredients in bread machine pan in order, or to the recommendation of your bread machine manufacturer. Make sure you make a well for the yeast on top.
Select the Basic/White cycle (I like this better than the Whole Wheat cycle). Select Medium or Light crust color, according to your preferences (I use Light).
Once baked, carefully slide bread out of bread machine pan, making sure to remove the dough blade. Cool on a wire rack.