Second Time Around -- Hot Pork Sandwich With Gravy
VickyJ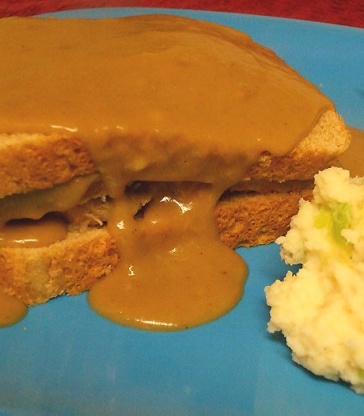 I took out some leftovers from the freezer. The leftovers were from a crock-pot recipe I made a little over a week ago. I froze the remaining roast in the stock it created. This is a comfort food recipe to the max. Serve with mashed potatoes or french fries for the full effect! Enjoy! Note: This could also be done with beef or chicken.

I made this recipe on 9/24/12 for mine and my SO's dinner, and most importantly as a tribute to a wonderful lady in " Vicky J's Cook-A-Thon ". Some leftover pulled pork from my freezer stash, jarred pork gravy, and home made mashed potatoes all came together to make one of the best " Comfort Food " meals that I've had in a long time. Everytime I make this or a variation of this recipe described in the description, I'll " Keep Smiling :) "
1⁄2-1 cup pork gravy (I made this from leftover broth, but you can use store-bought gravy)

2

slices bread (any variety you like, I used basic wheat)

6

ounces cooked pork roast (leftover and sliced)
1⁄2 cup mashed potatoes
Reheat leftover pork in microwave, stove-top or oven.
Heat gravy slowly in small saucepan over low/med heat or in microwave at 50% power 3-4 minutes.
Reheat leftover pork in microwave for 30 sec on high (micro. ovens vary).
Place one slice of bread on dinner plate, then sliced pork.
Ladle a little gravy over pork, then top with second slice of bread.
Spoon mashed potatoes on the side.
Ladle rest of gravy over both, or just on top of the sandwich.
Enjoy!
Note: I used the leftover pork roast stock, milk, flour, butter, salt and pepper to make the gravy. There is no recipe for the gravy.