DuChick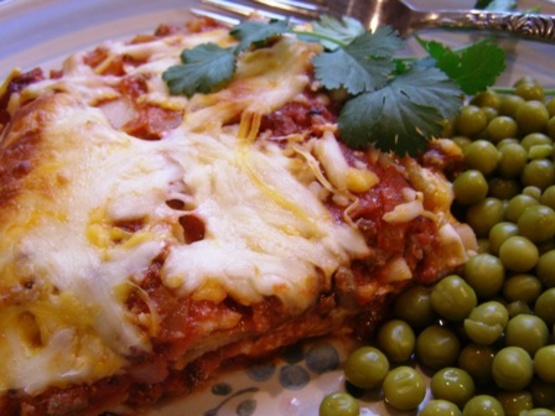 In 1962, the World's Fair was held in Seattle. A pasta was produced to be sold in grocery stores by the name "Space Noodles" after the new Seattle Space Needle. I took the recipe off the bag of pasta and tweaked it a bit to make a tasty lasagna. To this day it is still my brother's favorite lasagna.

Love at first bite! This was easy enough to prepare on a worknight and assembly was so easy when following the well-written directions, I made this just as stated, but used low-fat cheeses and whole wheat noodles. Also, I only had shredded mozzarella rather than slices, but that made no difference in the taste or texture. I had to force myself to put the extra in the fridge because I kept nibbling at it. Excellent! Thanks Tisherself for sharing this winner.
Cook lasagna noodles in boiling salted water until tender, about 15 minutes.
Heat salad oil in skillet; cook garlic and onion until soft. Add beef and seasonings. Cook until crumbly. Add tomato paste and hot water. Simmer 5 minutes. Set aside.
Blend beaten eggs with cottage cheese or ricotta cheese.
Put a thin layer of meat sauce in a 9x13x2 baking dish. Then half of the noodles, all of the cottage cheese mixture, half of the mozzarella, half of the meat sauce; rest of noodles, rest of the sauce, and rest of the mozzarella. Top with Parmesan cheese.
Bake uncovered at 350 for 30 minutes.
Let cool for 5 minutes before serving.
Unbaked casserole can be frozen. Allow to come to room temperature before baking. Also, leftover lasagna freezes well.