Season's Crock Pot Chicago Italian Beef Sandwiches
Nif_H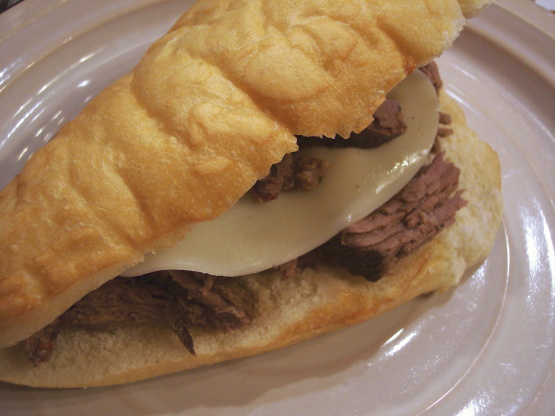 This can be served as a main dish but is great on Italian bread or toasted hoagies. Oh, and here's a tip -- make sure you DON'T drain the meat before placing it on the rolls -- the liquid has an AWESOME taste, so make sure you get plenty of it on your sandwich for the best flavor. In Chicago they say "the wetter, the better" when it comes to Italian Beef Sandwiches!!

Made this for a pool party and it was a hit!! I did the beef broth version but I would definitely do the least amount of liquid. After 10 hours there was a lot of liquid from the meat so I felt it diluted the flavor, plus there is still plenty of gravy. Seemed biggest complaint on reviews was being too salty so I substituted the onion salt with onion powder and used low sodium beef broth. Don't use beef broth from can, as I think it has a tin flavor, use the box kind. Added peppers and sliced onion three hours before serving, delicious!! Also I doubled the recipe using 8 1/2 lb roast but again ease up on broth or water.
In a medium saucepan over medium heat. Combine the salt, pepper, oregano, basil, onion salt, water, parsley, garlic powder, water, bay leaf and salad dressing mix. Stir well and bring just to a boil.
Place roast in a slow cooker and pour mixture over the roast. cover and cook on low setting for 10-12 hrs on low or high for 4-5 hours.
The best thing to do is to have it cook in the slow cooker until it is cooked through, remove the bay leaf, then shredd it and return it to the juice for about an hour.
Optional - Last 45 minutes add boullion cubes and green pepper. If you use broth instead of water don't add the bouillon cubes.
Serve on Italian bread.