Seasoned Stuffed Bell Peppers
VickyJ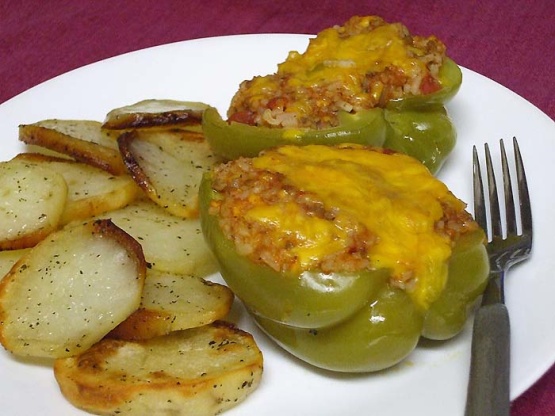 I like all well seasoned food so I guess that is what attracted me to this recipe.

Flavor was good, not too difficult to prepare. These were my first stuffed peppers and to me it was just TOO much pepper for me, I dumped the second one out and only ate the filling.
Cut off and discard the top fourth of the bell peppers.
Remove the seeds and membrane.
Place peppers upright in 1/3 to 1/2 inch salted water in heavy pot.
Bring water to a boil and cover tightly, then lower flame and cook for exactly 5 minutes.
Remove peppers, drain thoroughly and set aside while preparing the stuffing.
In large heavy pot heat oil and saute the ground beef and onions until brown.
Add garlic, thyme, salt, black pepper, basil and red pepper.
Cook on low for 5 minutes.
Add drained tomatoes and cook 2-3 minutes breaking up tomatoes.
Add cooked rice and worcestershire, mixing well.
Cover and simmer for 10 minutes.
Remove from heat and add cheeses.
Stuff peppers and bake at 350 degrees, uncovered, for 20-30 minutes or until lightly brown.