Seasoned Pork Roast With Mushroom Sauce
Ms B.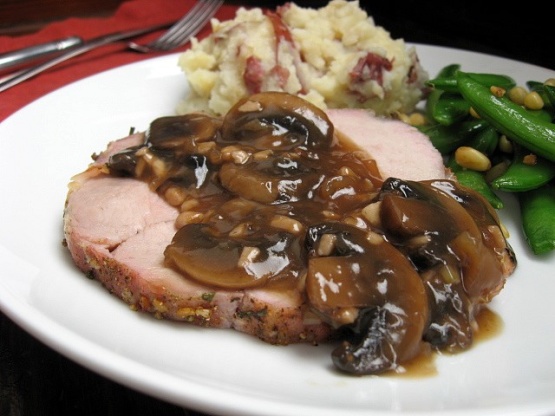 Recently, my area experienced a blizzard that knocked out power for almost a full day. While I had my gas stove for cooking, I didn't have access to the internet to search for recipes. I had to resort to sifting through my cookbooks. I found this gem in a Junior League cookbook, and after modifying it slightly to suit ingredients I had on hand, Hubby proclaimed it worthy of repeating.

Excellent flavor! The spices were great, especially the fresh rosemary. Loved all of the garlic too. I used baby portabella shrooms. It also took me longer for the prep than 10 minutes, more like 20, but maybe I am slow. LOL I use a flour/water base for my gravy instead of cornstarch...that's just the way my Mom taught me. I will be making this again. Thanks for sharing, ms_bold!
Preheat oven to 425°F
Mix all the spices together in a small bowl.
Coat the roast with the spices, patting to keep on meat.
Insert a meat thermometer in the roast and place the roast on a rack in a shallow baking pan.
Roast for 15 minutes.
Reduce the temperature to 325F and continue to roast until the center temperature registers 150F; about 1 1/2 hours.
Allow the meat to rest for 10 minutes before carving.
Serve with mushroom sauce.
Mushroom sauce: Heat the oil in a medium skillet. Saute the garlic and shallot for 1 minute.
Add the mushrooms and saute over medium-high heat for 4-5 minutes or until they start to brown.
Add the wine and 1/2 cup of chicken stock and simmer until most of the liquid evaporates.
Add the chicken stock and soy sauce.
Bring to a boil.
Stir in the cornstarch mixture and simmer for 2 to 3 minutes.
Season with salt and pepper, if desired.