Joanne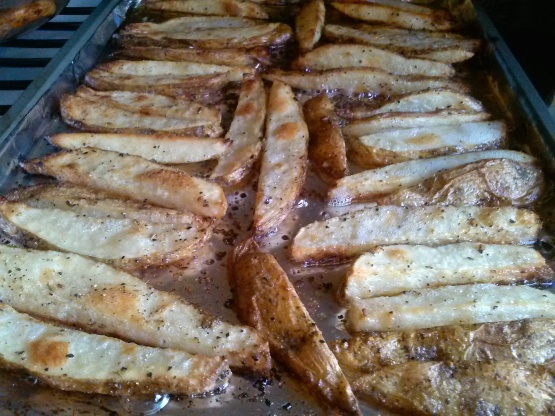 These fries are awesome! Perfectly seasoned and crispy. Great as a side to a sandwich, or burger!

Delicious! Simple and flavorful. Thanks for posting the recipe.
Soak cut potatoes in cold water for 10 minutes. Drain and pat dry with paper towel then transfer to large bowl.
Add remaining ingredients except salt, toss well to combine.
Meanwhile, line a large baking sheet with foil. Place baking sheet in oven, preheat oven and baking sheet to 375 for 10 minutes.
Remove preheated baking sheet from oven, pour fries onto baking sheet (being careful not to burn yourself baking sheet will be hot). Arrange fries in a single layer.
Bake for 45 minutes, raise temperature to 425 and bake for another 10 minutes until golden and crispy.
Remove from oven and immediately sprinkle with salt (this step is optional but I highly recommend it).
Note: You can flip the fries half way through the cooking process if you'd like. But I don't feel it's necessary, so no flipping here!