PaulaG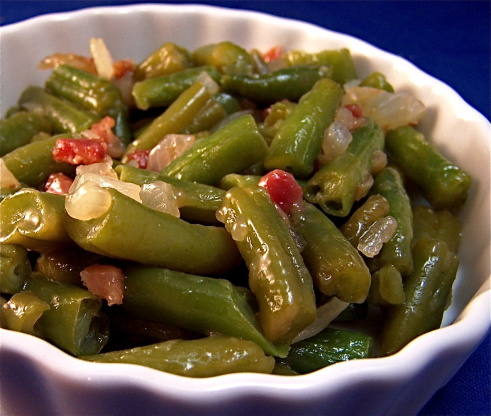 Don't leave the bacon out or this won't taste right.

Super simple and oh, so tasty! My fiance couldn't stop complimenting them and my daughter loved them, too. I thought they were a great alternative to butter, salt, and pepper like we usually have on our veggies. It helps to snip the slices of bacon into 1/4 inch pieces as they are added to the pan (I used 5 slices, we like bacon) so you don't have to handle it hot. It cooks faster that way, too. Sauce was quick and very flavorful. Will definitely make again (and again)!
Cook green beans (you can steam the fresh ones about 15-18 minutes; or fix frozen according to pkg directions, or heat canned).
Saute onion in bacon fat or butter/margarine until tender and starting to turn brown.
Mix cornstarch, salt, mustard, brown sugar, and vinegar together with 1/2 cup of the water from the green beans.
Add this to the onions in the pan and cook, stirring, until slightly thickened.
Drain the cooked green beans and mix into the thickened onions; adjust salt and pepper and stir, coating green beans and cooking until reheated if necessary.
Top with crumbled bacon and serve.