loof751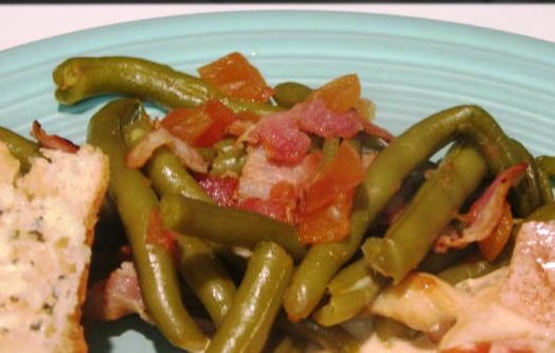 Dressed up and tasty combination of tomato, garlic, onion, and bacon make this a sure hit anytime!
Use a Teflon coated 8" frying pan. Spray cooking spray in the pan and put on medium heat on stove.
While pan heats up, cut up the raw bacon in ½" pieces and put it in the pan.
Turn the bacon in the pan or stir until its crispy. Lower heat if the pans starts to smoke or it appears that the bacon is cooking too fast and burns. Do not drain fat.
Add onions and fresh garlic and stir until they appear translucent (transparente). This should only take about 2-3 minutes. Do not let garlic burn it will taste AWFUL! If you use garlic powder add it together with the tomatoes.
Add the tomatoes and stir altogether until all is heated.
Add green beans from both cans with liquid from one can only. Stir altogether.
When it starts to bubble or heat up, cover pan and turn heat to low to simmer for about 10 minutes.
ENJOY!