lazyme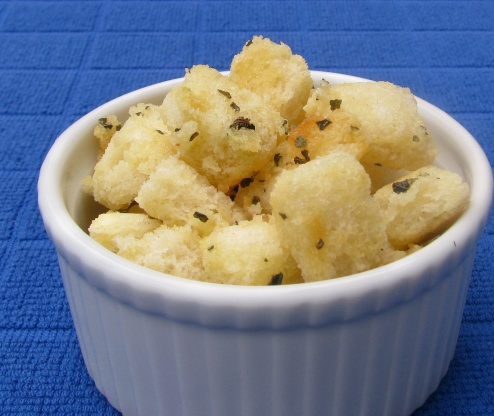 From Taste of Home June/July 2006. I added more garlic and onion powder to ours to taste.
I agree with a previous reviewer, why buy store made croutons again!!! I love the flavor of the mixture, although, I did leave out the basil and just used with the garlic & onion powders. I think next time I would make twice the amount of butter/oil mixture, as I want more of a coating on the cubes, but that is a personal (more fattening, lol) preference. Thanks so much for sharing a great recipe and a money saving recipe. Congrats again on your win in the Football Pool.
In an ungreased 9 X 13 X 2 pan, combine all ingredients except bread.
Place in a 300 degree oven until butter is completely melted.
Remove from oven and stir to mix.
Add bread cubes and toss to coat well.
Bake for 10-15 minutes or until lightly browned, stirring frequently.
Cool.
Store in the refrigerator in an airtight container.