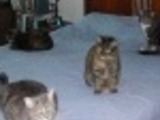 Posted for Zaar World Tour 2005. Quick & easy way to make fine breadcrumbs homemade! Not that I think these are uniquely Irish bread crumbs, but I was glad to have come across a recipe for homemade seasoned bread crumbs in The New Irish Table and thought many of you would be too. Any bread should work with this recipe, but the recipe specified baguette. Instructions for using toasted bread instead of dried are my own. Toasting instructions should be reduced for thinner sliced bread (less than 3/4-1 inch). I tried this recipe using toasted sourdough bread and my only recommendation is that you process in batches. Otherwise, outcome was fantastic!
5 -6 slices stale bread (baguette) or 5 -6 slices fresh bread, cut into 1/2 inch cubes (baguette)
1 teaspoon dried parsley
1⁄4 teaspoon dried basil
1⁄4 teaspoon dried oregano
salt and pepper
Directions
If using fresh baguette, place slices on a cookie sheet in a preheated 400 degree Fahrenheit oven for about 10-12 minutes. Let cool slightly and cut into cubes.
Place cubes of stale or toasted baguette in a blender. Add herbs, salt and pepper and process for 15-20 seconds, or until the mixture is ground into fine crumbs.
Most Helpful
So simple but have great flavour, no need to buy them when they're this easy to make. Thanks for posting!

Thank you so much for sharing! I've been wanting to try seasoned crumbs for some time. I already had some breadcrumbs in the freezer so I just toasted them. A keeper money saver!

I made this with whole wheat bread and followed the instructions for toasting it. It smelled great while I was processing it all and it tastes great on my chicken and fish. Great recipe!