From the Comfort Food Diet cookbook of Taste of Home. This recipe was a real hit with DH. He ate 2 potatoes and a half from this recipe. He went 3 times to take another piece. LOL
Directions
Scrub potatoes and cut in half lengthwise; place cut side up on an ungreased baking sheet.
Brush with oil.
Sprinkle with basil, onion salt and garlic powder.
Bake at 400 degrees Fahrenheit for 35 to 40 minutes or until tender.
Reviews
Most Helpful
Absolutely wonderful! I used Yukon Golds, and used onion powder and sea salt, as well as a good grind of black pepper. Crisp on the outside, light and creamy on the inside, and completely delicious throughout! Thanks for posting!

I love this unique way of making a baked potato! I made this exactly as posted, except I used onion powder, then added salt and pepper. I used russet baking potatoes. I will definitely try this again, playing around with the seasonings. Thanks for sharing.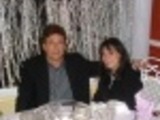 Wonderfully flavorful potatoes, these! Instead of the onion salt, I too used a little onion powder, then a pinch of salt along with a bit of lemon pepper (along with the other indicated ingredients, of course)! Easy as could be to prepare, & great eating! [Made & reviewed in the current ADOPT A TAG event]